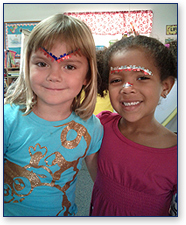 Located in Ormond Beach, Florida, our well-maintained child care center provides a safe, clean place for your child to grow and learn. Our open-door policy is a "welcome mat" inviting you to stop by and take a tour, visit with your child or observe your child on our closed circuit TV. If you are searching for a facility that offers your child the best of care combined with a quality preschool education, relax. You've found it. Care Bear Cottage is licensed through the Department of Children and Families (DCF License # C07VO0427).
The staff of Generation 2 Generations' Care Bear Cottage realizes that the early years are extremely important in terms of your child's social and cognitive development. We are dedicated to assisting you to help your child to realize his/her full potential.
Our staff is carefully selected and trained in the field of early childhood education with emphasis on the total development of children both socially and cognitively.
Generation 2 Generations' Care Bear Cottage provides a developmentally appropriate and stimulating learning environment that is comfortable and caring with many positive reinforcements - thus our underlying curriculum theme: "learning is fun." An essential key to learning is school enjoyment; therefore, a child's first association with school must be a positive one.
Our goal for each child is that he or she enjoys the preschool experience and becomes excited about learning. With that in mind, we have established a program that is distinctive in helping your child to learn about his/her world and in developing socially, emotionally and physically.