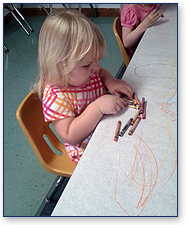 Here at Generation 2 Generations' Care Bear Cottage our philosophy is each member of our staff is dedicated to ensuring that the words, "Where Caring Comes First," is a reality for every child entrusted to us.
We believe that every child deserves to be treated with respect and kindness while growing and learning about the world around them.
Our goal is to provide our children with a healthy, warm and invigorating social atmosphere while encouraging their exploration, learning and growth.
Founded in 1984 we are proud to say we have grown along with our community and now can see the success of our team efforts. Many of our current parents attended Care Bear Cottage as children!

We continue to offer the following:
Toddlers — before- and after-school programs
6:30 a.m. - 8:00 p.m.    Monday - Friday
Flexible scheduling available
Open-door policy — visit any time we're open
Excellent staff stability
Highly trained, nurturing staff
Small class sizes for individual attention
Periodic progress reports
Hot, nutritious meals and snacks
Field trips, summer programs and more…
Visit our forms page and enroll your child TODAY!